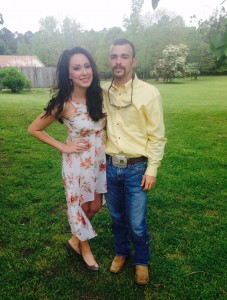 How did you meet?
At a Sigma Pi Fraternity Party
What activities did the campus offer couples?
Blake was very involved with Sigma Fraternity and the Ag Department so we could almost always be found at functions put in by them.
What did the two of you do for fun/dates?
Typical dates, fishing at Lake Columbia, dinner and a movie at the cameo when it was still open, and getting together with friends.
How many years have you been together?
We started dating in 2010 and got married in 2012.
Are there any special memories of you two on campus?
We were both great and often attended Greek functions together. We also enjoyed mulegating and take Olivia when we can.