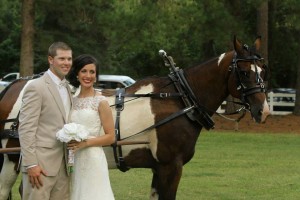 How did you meet?
Jackson and I met for the first time at Backyard BBQ. I was working there and he came in on his first night in town with a couple of teammates that I knew. He sent me a Facebook friend request that night, but it was months before I accepted, which we both still find comical. We were both students in the College of Business and met one night after a baseball game and hit it off. My best friend from SAU, Megan Godsil, knew us both and told me that if we officially started dating she knew we would end up married. She was right, and stood with us on our wedding day!
What activities did the campus offer couples?
Jackson played baseball for the Muleriders and I was the Mulerider Mascot. We loved going to the football games at SAU. I spent a lot of time at Walker Stadium and Goodheart Field as well as traveling to watch him play baseball. We also loved watching the basketball and volleyball team. We really enjoyed going to the Spring Concert together and love to watch plays and other performances that are offered on campus. One of our favorite activities to attend is the SAU Intercollegiate Rodeo and the Magnolia Stampede Pro Rodeo that takes place at SAU's Story Arena. I can't forget to mention our many walks on the SAU Farm Road.
What did the two of you do for fun/dates?
The first "dates" we had were out on a dock at Lake Columbia. We would go there at night to look at the stars and spent hours talking. It is a really special place to us that we will always hold close to our hearts. We both had very full plates with college, so a date night to us in college was either grabbing dinner and a redbox or driving over to Texarkana to dine and catch a movie or shop.
How many years have you been together?
3 years total. We were married in Magnolia July 12, 2014.
Are there any special memories of you two on campus?
After graduation, I started working for SAU as the Story Arena Manager, though I am part of the Office of Development now. Jackson still had a year of school to finish up his undergrad at the time and has completed that now. We are now both working on our MBA's at SAU's College of Business. We still happily reside in Magnolia and are so thankful for SAU for providing us with a stellar education, career opportunities and most of all each other!