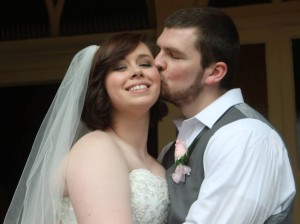 How did you meet?
We met at first in Dr. Wilson's psychology class, although we didn't really know it at the time until much later. About a year and a half afterwards we connected through mutual friends on Facebook. He sent me a video through messenger that was absolutely hilarious and the rest is history.
What activities did the campus offer couples?
We love plays, so when the theater department hosted a play during the semester we would always try to go and watch them together. We also enjoyed the different game nights that were thrown, such as Casino Night, Bingo, etc. Jarryd is big into working out and overall health and fitness, so we frequented the MACs weight room in the evenings.
What did the two of you do for fun/dates?
Our first date was the Orchestra that the band hosted on campus and Tokyo's. We played video games together, went to the movies, went bowling, and in general just enjoyed each other's company. All things we still do to this day. 🙂
How many years have you been together?
We started dating in 2012, so April will make 4 years. We got married August 2014 at Old Washington State Park.
Are there any special memories of you two on campus?
Jarryd and I graduated with our Bachelor's on the same night, which was amazing. Since we were in different programs, we got to watch each other walk and receive our diplomas. We took a lot of the same Psychology classes together, so we learned a lot of the same things. We were study buddies for our Genetics class. I'm thankful we shared the same mutual friends that brought him and I together. <3