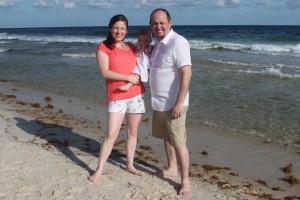 How did you meet?
We met our first day on campus at Mulerider Roundup. We ended up being matched as Roundup partners, because our Birthdays were in the same month. A few days later, we found out that we were both members of the new Residential College on campus, and a few months later we started dating.
What activities did the campus offer couples?
There were no couple activities that I remember, but we both joined Greek organizations our sophomore year, and we hung out and participated in group activities with them.
What did the two of you do for fun/dates?
We both loved going to the movies and taking short road trips. Our first official date, however, was bowling over Thanksgiving break.
How many years have you been together?
We've been together for 10 years now, married for 6.
Are there any special memories of you two on campus?
Most of our favorite memories together were spent with our friends at the Residential College and in our fraternity and sorority. Our most special memory was actually off campus. John got all of our friends together to surprise me on my 21st Birthday when he proposed 🙂