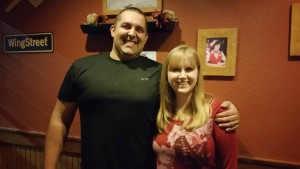 How did you meet?
We met at the ABS the day before my first day of classes in August 2006 as a freshman. He was a senior and approached me and introduced himself. We kept running into each other in between classes and at the ABS. We started dating in January 2007 of second semester. He was senior and said he'd never date a freshman. Well, never say never.
What activities did the campus offer couples?
We attended the Association of Baptist Students where we fellowshipped with other Christians and friends while getting to know each other.
What did the two of you do for fun/dates?
We would go out to eat, go to Bossier City, hang out at my parents house, and spent time with our families.
How many years have you been together?
We have been together since 2007, but married since May 10, 2008. We will celebrate eight years of marriage this year.
Are there any special memories of you two on campus?
Keith and I were friends first and we would walk to morning classes together, and most of the time eat lunch out.