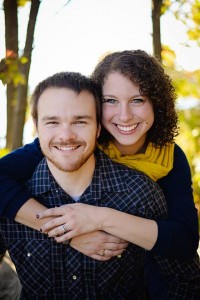 How did you meet?
We met at a Halloween party at the Wesley Foundation. I (Lauren) didn't really know anyone there, but Alan kept talking to me and trying to make me feel comfortable. We didn't exchange numbers or anything that night, but a few days later we ran into each other again at the BCM Halloween party. We texted and hung out constantly after that party and nine days later, we were "officially" dating!
What activities did the campus offer couples?
We both helped found Christian Greek organizations. It just so happened that the members of both groups were all close friends, so we did a lot together. We pulled many all-nighters working together on rush week, Greek week, and homecoming stuff! We both love the Homecoming traditions at SAU and we participated in those every year. We were both very involved in campus ministries so we attended those together, too.
What did the two of you do for fun/dates?
We spent a lot of time in Talley Hall where Alan and most of our friends lived. We'd watch movies, discuss passages of Scripture that we had been reading lately, and just goof off with friends. We also liked going to the lake with our friends for stargazing and avoiding homework. We made many late night IHOP trips as well.
How many years have you been together?
We started dating in November 2010, got engaged in 2012, and have been married since June 2013.
Are there any special memories of you two on campus?
We hung out in Talley Hall a lot because it's where Alan lived the first year of our relationship. That's where he taught me to two-step! If we weren't in Talley, we were at the Wesley or the BCM. SAU is where we got to know each other. It's where we realized we wanted to spend our lives together, and it will always have a very special place in our hearts!