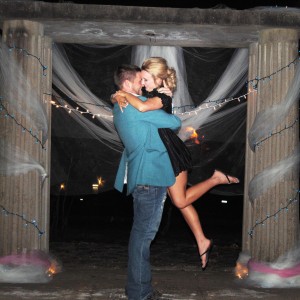 How did you meet?
We first saw each other at an event the BCM hosted for Freshman, but didn't officially meet for a few weeks at a Theatre meeting. If you would have told either of us back then that we'd be married now, neither of us would believe you. So glad that SAU brought us together, because without it we wouldn't have ever met!
What activities did the campus offer couples?
Any of the traditions were always a fun thing to do as a couple. Homecoming, of course, was always great- our favorite was street painting and the bonfire. The family day activities were a hoot, and any of the movie nights were a great time.
What did the two of you do for fun/dates?
As theatre majors, time was of the essence and we didn't have a lot of it. So we really spent our free time just spending time together, or chilling with our friends. On nice nights we enjoyed many a walk around the duck pond or farm road.
How many years have you been together?
Well, I first fell in love with Kaylee while acting in Royal Gambit, I was Henry the VIII and she was Anne Boleyn. We started dating that summer and got engaged on November 1, 2012, and then got married in 2014. So it'll be 4 years this spring!
Are there any special memories of you two on campus?
There are so many special memories for us at SAU. Probably the most special was the night after the Miss SAU pageant when we got engaged. I set up a scavenger hunt around campus that featured all of the special places for us (first kiss, first date, etc.), and it ended at the Greek Theatre. That night holds such a special place in our hearts, and we love getting to revisit campus anytime we can!