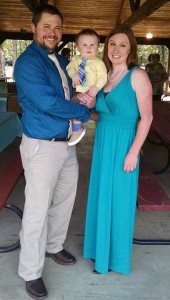 How did you meet?
It was time to decorate for the Celebration of Lights, and the Ag Department scheduled a night for the students to put lights on a tractor to be parked in front of Child's Hall. Kyle was being his usual outgoing, silly self, and we quickly became friends and started dating a few months later.
What activities did the campus offer couples?
What did the two of you do for fun/dates?
Well there wasn't much to do in Magnolia, so we basically had to stick to the basic dinner and movie or picnic at Lake Columbia. We also spent a lot of time at the Association of Baptist Students and, after we were married, having friends over to our house for food and movies nights!
How many years have you been together?
7 years total. Married August 2010
Are there any special memories of you two on campus?
Kyle graduated a few months after we met, then we lived in town during my last semester of school, so we weren't on campus together for long.