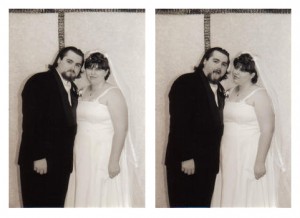 How did you meet?
We actually met at Family Day in 2000 under a tree at the duck pond. From there it was just friendly flirting as I was already talking to another young man. A few weeks went by, his friends and my friends just sort of gravitated together and so we saw each other at the cafeteria and stuff like that. Then some of my friends(who also met and married at SAU) and some of his friends got together and decided that it would be fun to set us up. They didn't let on to us. They would find phones on campus to call each other and make sure that we were going to be in the same place at the same time. This went on for weeks and I was absolutely convinced that he was stalking me. Funny thing is– he thought the same thing about me. Then in February of 2001 some of our friends were going on a date to El Dorado, they asked us to ride along. I should have seen it coming. We ended up at the airport in El Dorado and the other couple left us alone. One thing led to another and soon we were a couple.
We got married in Dolph Camp Recital Hall on December 20, 2002. Thirteen years and three kids later
( Xander, Cole and Isabella) we are just as happy as ever.
What activities did the campus offer couples?
I was involved in BCM. We were both part of the theatre dance group Encore and enjoyed the special nights like B Movie Night.
What did the two of you do for fun/dates?
We were soo boring. LOL We enjoyed hanging out in the mall area late into the morning most nights.
How many years have you been together?
14 together and 13 married.
Are there any special memories of you two on campus?
The first meeting we had at the Duck Pond. There is a whole story about me accidentally breaking his sunglasses– but I just have no idea what he is talking about.