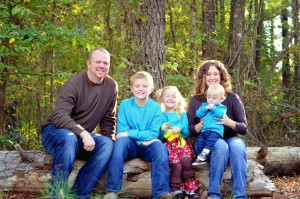 How did you meet?
I (Brittany) was a waitress at a local restaurant and Dayton was a bouncer at the local bar. We had mutual friends that officially introduced us. We started dating in October of 2013 and we eloped in January of 2014!
What activities did the campus offer couples?
We always loved meeting on campus and eating lunch together. There are so many beautiful spots to choose from. Since we were married so quickly we were both very busy working full time and still attending school.
What did the two of you do for fun/dates?
We did lots of things, but most of the time since we both worked evenings/nights we would have lunch dates!
How many years have you been together?
We have been married 12 years. We have three children, Graham (10), Emerson (7) and Finley (1).
Are there any special memories of you two on campus?
We were able to take a couple of classes together. Getting to spend that extra time together was special.