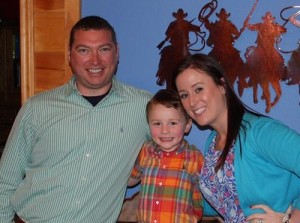 How did you meet?
Jeffrey had classes with my sister and her boyfriend. After meeting him I told my sister I thought he was cute so they started working on getting us together more.
What activities did the campus offer couples?
We went to Mulegating and football games.
What did the two of you do for fun/dates?
We went to dinner here in town or drove to Texarkana or Shreveport.
How many years have you been together?
Together 11 – Married 8 1/2
Are there any special memories of you two on campus?
Jeffrey graduated in December 2004 and we began dating in January 2005 so we weren't on campus together. We have enjoyed receiving our undergraduate and graduate degrees at SAU.