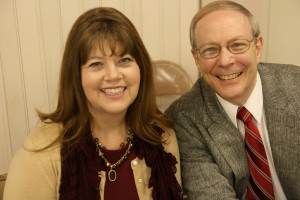 How did you meet?
Rhonda was playing violin in Ms. Baer's String Ensemble back in 1974, even though she was still a high-school student. As a freshman music education major, I learned to play viola and was asked to join the ensemble. That's how we first connected. But I was also a clarinet major and she played clarinet in high school. So when I'd attend the local band events, there she was again. And we both ended up singing in the Central Baptist Church Youth Choir.
What activities did the campus offer couples?
What did the two of you do for fun/dates?
I invited Rhonda to a BSU Christmas banquet, and then later to my sophomore music recital. One of our first dates out with another couple was at Sonic. Sometimes we'd go to movies at the Cameo or we'd go to a local restaurant.
How many years have you been together?
We dated for three years and then got married in 1978. So we've known each other 41 years! And it just keeps getting better!
Are there any special memories of you two on campus?
Our most special connection on campus is the Greek Amphitheater. That's where I proposed!