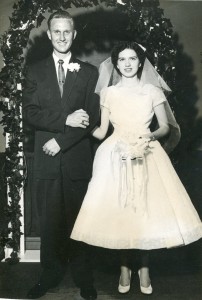 How did you meet?
We met in an art class together. Loyd was a senior taking art as an elective. I was a freshman taking art for a degree in education. Later, I found that he and I attended the same church. He had a car for the first time, so he offered me a ride to church. After that, we began dating and our relationship began to grow. We were married at the end of the next school year (1956). After that, we moved to Oklahoma for him to complete his MS from the University of Oklahoma.
What activities did the campus offer couples?
We were in the Baptist Student Union and also attended the home football games. We attended several social activities that were offered on campus.
What did the two of you do for fun/dates?
Occasionally, we would go to a movie on Friday evening with another couple. Our relationship began to grow and our first kiss was at the small fish pond between the girls' dorm and the cafeteria. The campus was so beautiful and we often walked and talked about our future. We became very serious at this point.
How many years have you been together?
We have been married for sixty years this year. We have two daughters and three grandchildren, one of which is married.
Are there any special memories of you two on campus?
We especially remember the Greek Amphitheater where our proposal took place.. The old pine tree between the library and the administration building was also a special place.