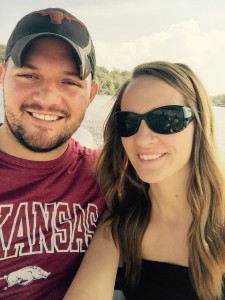 How did you meet?
Josh played football and I cheered so we always knew of each other, just never talked. He then lived across from me in the Village apartments for a year and again we never talked. A mutual friend invited us both to the movies and from that night on we have been together.
What activities did the campus offer couples?
Various events hosted by the different Greek organizations on campus.
What did the two of you do for fun/dates?
We enjoyed attending sporting events and fraternity/sorority functions together.
How many years have you been together?
We have been together for 9 years and married for 7. We now have three children 6, 4, and 7 weeks old.
Are there any special memories of you two on campus?
Family Day 2007. Josh invited all our friends and family to the game. His family traveled from Florida to be there. After the game everyone went to the field as the band played. When I got to the field I noticed a semi-circle around Josh and he dropped to one knee and asked me to marry him. It was definitely surreal and a moment I will never forget.