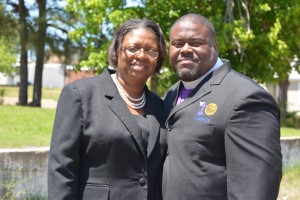 How did you meet?
We meet at The Bell Tower… We were both on our way to class; I was on my cell phone and she took one look at me and said "A Maaaan!!!"..LOL I saw her ( I really felt the same way about her) and we developed a great relationship as friends!!! I truly fell in Love with her and asked her to marry me, but We will never forget that meeting at the Bell Tower!!!
What activities did the campus offer couples?
We both was a part of Greek Life at SAU (Omega Psi Phi & Sigma Gamma Rho)
What did the two of you do for fun/dates?
We talked and had a lot of fun together although we knew that we had prior relationships; We still would encourage each other..
How many years have you been together?
19 yrs. We have three children
Are there any special memories of you two on campus?
We just loved the times at the Bruce Center and The Bell Tower and esp. The Greek Shows!!! But We Thank God for that meeting because from that meeting, God changed our lives and called us to work here in Magnolia for His Glory to Pastor at our Church called Life Builders Restoration Church.