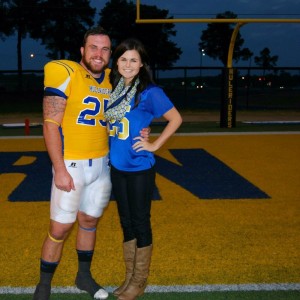 How did you meet?
We were high school sweethearts! Alex then got a scholarship to play football at SAU, and I followed him to SAU and we both loved it!
What activities did the campus offer couples?
We would go to movie nights, loved going to plays and would always make bingo night even though we never won!
What did the two of you do for fun/dates?
When it wasn't football season and Alex had some free time we loved to go to downtown and look at the shops together and out to eat!
How many years have you been together?
We have been together for 6 years and will celebrate our two year wedding anniversary together at the end of March!
Are there any special memories of you two on campus?
My all time favorite memories are watching him play football. In four years I only missed one game, which was in Georgia! I loved watching him do what he loves! Also, not technically on campus but we found out I was pregnant with our first child in Magnolia and I gave birth only 18 days after we graduated in December 2014!